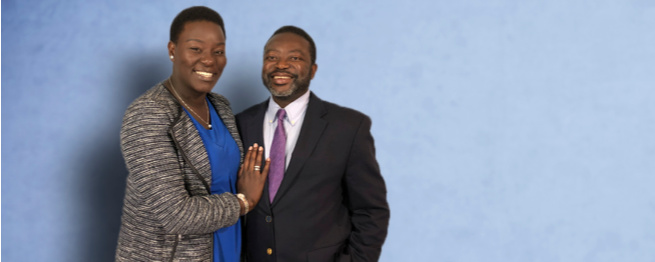 Linda & Kofi Wurapa
Parents, International Travelers, Committed to Quality Care
"We're going to treat you like family."
Linda's Story
I first knew I wanted to get involved with caring for others when I was a child, watching my grandmother volunteer as a birth attendant. For her, the reward was in helping others and making a difference, and that inspired me from a young age to pursue a career in the medical field.
I worked for many years as a physician's assistant in Kenya. While working with the U.S. Army in Kenya, I met my husband Kofi and moved back to the U.S. with him to be married. We always knew we wanted to do something together that would allow us to provide care to those most in need of it. That is why ComForCare was the perfect fit for us and our family. ComForCare allows us to practice our belief that everybody deserves to live their best life possible.
Kofi's Story
When I was in college, I worked as a certified nursing assistant in a nursing home, and my experiences with helping older adults live their lives with dignity and care had a profound impact on the rest of my life. After medical school, I served as a physician in the U.S. Army for 22 years. While serving in Kenya, I met Linda. We then moved back to the U.S. and married.
After my military service ended, I knew the easy thing to do would be to open a clinic and continue practicing medicine, but the more I thought about what to do next, the more I kept returning to those years spent working in the nursing home. I knew there were many people there who would have preferred to receive care in their own homes, and I wondered if I could be involved in something that would make that possible. I also thought a lot about my own father, who had recently begun to receive in-home care, and that was what really sparked our journey into home care.
We knew that providing quality in-home care was something we could do together, which would make a difference and would be true to our values of providing care and aid to those who need it.
Our ComForCare Pledge
We know firsthand what a difference quality in-home care can make in the lives of our loved ones and our family. Knowing that our own relatives are safe and cared for is an enormous relief. We are honored to bring that same relief to our clients and their families each and every day.
Our ComForCare pledge is to provide high quality, personalized care to people who need it. We see care as more than just a job. We see it as companionship and a calling to give back to others and help our clients and their families alike to live their best lives possible.
Linda's Qualifications
Degree in clinical medicine from Mt. Kenya University
Associate's degree in nursing from Montgomery College
Kofi's Qualifications
Bachelor's degree in biology from Lebanon Valley College
Medical degree from Penn State College of Medicine
Served in the United States Army as a physician for 22 years