Meet the team of ComForCare Palm Beach.
Management Expertise
Scott:
National Guardianship Association Board Member
Past President of Florida State Guardianship Association
Advisory Council of Area Agency on Aging
Radio Host and Author of "OMG, I'm Getting Older and So is My Mom"
Featured Author at Book Expo America
National Certified Alzheimer's Educator
DementiaWise™ Trainer
Tino:
DementiaWise™ Trainer
Dementia Care Program Advisory Council
Volunteers at senior communities with cognitive stimulation activities
National Certified Alzheimer's Educator
Knights of Columbus
Allison:
Treasurer of Palm Beach Guardianship Association
Recognized by AFJCS as a Person who Makes a Difference
Recipient of AFJCS New Leader Award
National Certified Alzheimer's Educator
DementiaWise™ Trainer
Melissa:
Certified Group Fitness Instructor
Senior Fitness Specialist
American Parkinson Disease Association, Board Member
Parkinson's Disease Care Expert
Support Group Facilitator
Powerful Tools for Caregiving, Certified Group Facilitator
Matter of Balance, Certified Group Facilitator
Public Relations Society of America, Board Member and Programming Chair
Scheduling Team
Our scheduling team includes Claudine Louis, Lisha Petit-Frere and Tori Watts. Both Lisha and Tori are CNAs and had years of experience in the field before moving inside. This gives us an advantage, as they "speak caregiver," meaning they know the true science of matching the right caregiver to the right client. Claudine has been with us over six years, first as our part-time receptionist and now overseeing the scheduling department. She has more patience than anyone and a true knack for dealing with both our clients and caregivers. The scheduling team is the engine that keeps our machine running and there's nothing they can't accomplish.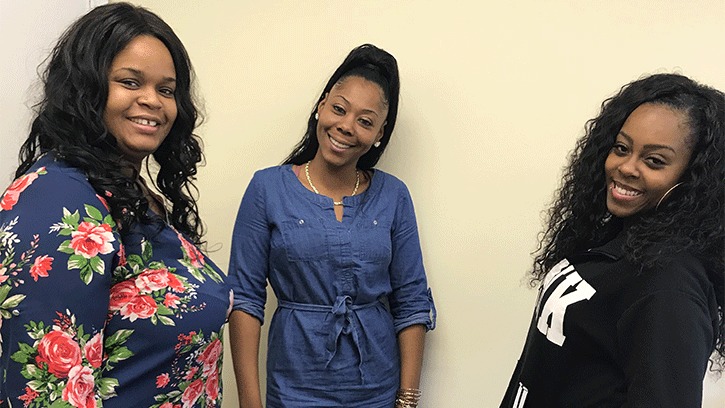 Contact us at
561-630-1620