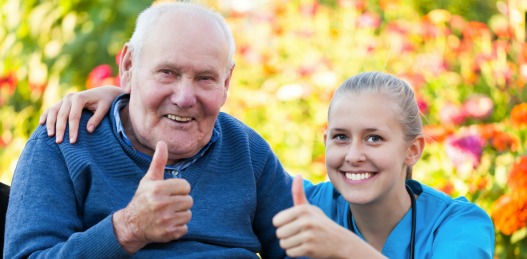 "I am totally satisfied with ComForCare, and I don't know if there is anything more they can do.  I brag about ComForCare all the time."  --  Dianne M.
-----
"ComForCare has done everything that they have said they would do, plus more.  The company stays on top of the schedule and is willing to listen.  The caregivers are in turn with my husband's diabetes and his mood changes.  I have respect for them and I would rate them way about a 10 if I could. 
 ComForCare has always been there for us and I can't think of anything they could do to improve."  --  Debi S.
-----
"I would like to bring to your attention the excellent work of Jim's caregiver from ComForCare, Jennifer.  Jennifer was excellent in every respect in carrying out responsibilities during Jim's last months.  She was faithfully reliable in keeping her schedule, as well as compassionate, and accommodating in meeting his needs.  Jennifer prepared food and drink special to Jim which is exceptional as he was quite particular in his eating.  She took initiative in cleaning and keeping house such that he was clean, comfortable and safe at all times under her care. I cannot say enough about how satisfied I am in being able to have Jennifer assist in Jim's care during this time of need; she deserves exceptional thanks and commendation for her good work.  You should be proud to have such a kind and effective caregiver working for you.  If ever such services are needed again, I would have absolutely no reservation in recommending Jennifer as provider.  Thank you for providing excellent service."  --  Alan, Care Coordinator and Personal Representative
-----
"The home care that mother receives from ComForCare is truly outstanding.  Mother, my sister and I greatly appreciate the conscientiousness of your caregivers.  Indeed this is a credit to your own conscientiousness.  We thank you!"  --  Son of 100 year old client
-----
"I wanted to take a moment to say thank you for all the above and beyond effort you have given to my clients - one in particular.  Because you worked so hard, she is safe to stay at home.  My client's daughter expressed the same gratitude at your effort & concern.  Thank you so much!"  --  Medicaid case manager
-----
"Thank you so much for helping this client.  All of the case managers at NWSDS appreciate your efforts and we heard the same appreciation from the case managers at Salem Hospital."  --  Medicaid case manager