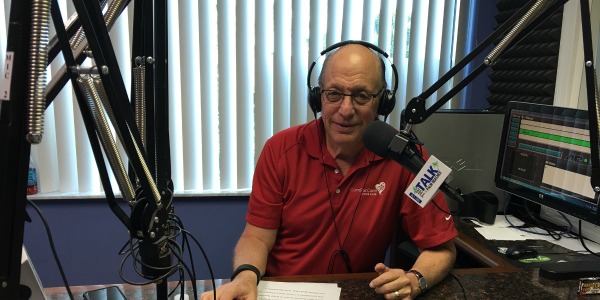 Check out

Scott Greenberg's weekly radio shows broadcast on

95.9 FM

Mondays at 5:00 PM.
Episode 284 - January 15, 2018
In a story that you may think could never happen to you, Gwen Smith details her father's descent into the world of guardianship. This fascinating tale of what can happen when you're not paying attention will astound you. Listen carefully and learn this lesson this story tells.
Episode 284 - January 8, 2018
Dr. Paayal Patel from Brain Matters Research discusses both pharmacological and non-pharmacological approaches to Alzheimer's disease and dementia care. A most interesting look at different ways to approach this chronic and growing disease.
Episode 283 - December 18, 2017
Kim Clawson, the Director of the Helpline, a service of the Area Agency on Aging, talks about all the services they provide and the incredible work they do. If you don't know the Area Agency on Aging, listen in. It's one of the most valuable resources in our area.
Episode 282 - December 11, 2017
On "OMG, I'm Getting Older and So Is My Mom", a spirited discussion with the founder of Americans Against Abusive Probate Guardianship (AAAPG), Dr. Sam Sugar. One of Scott's most fascinating and fast-paced shows.

Episode 281 - December 4, 2017
Dr. Jeffrey Lefton, Director of Behavioral Health Services at Delray Medical Center's Fair Oaks Pavilion, discusses holiday blues and depression along with so many important issues confronting us as we age. An important show at anytime of the year, but especially now.
Episode 280 - November 27, 2017
In a back to the future moment, Scott begins his new tenure on his new station. This is back to where it all began six years ago. On "OMG, I'm Getting Older and So Is My Mom," Scott reintroduces the show to this new audience and talks about many different subjects to highlight what the show will be like in the months to come.
Episode 279 - October 30, 2017
Guest host Chris Ladue and Nurse Practitioner Lucy Mead from Gardens Neurology discuss the changing yet important role Nurse Practitioners have in doctors' offices today.
Episode 278 - October 16, 2017
Desirae Mearns, SHINE Program Director for Palm Beach and the Treasure Coast, discusses Medicare open enrollment, the donut hole including new 2018 figures, navigating the Medicare landscape, new changes coming our way in 2018 and how folks can take advantage of the services SHINE offers. A most important and informative show.
Episode 277 - October 9, 2017
The authors of an extremely important new book "Permission to Die" join Scott to discuss this very important subject matter. And while the topic is serious, the conversation is fun, upbeat and, more importantly, very informative.
Episode 276 - October 2, 2017
Dr. Benjamin Bensadon, psychologist, author and educator, discusses the role of psycho-social treatment in geriatric behavior along with how the changing face of healthcare is impacting outcomes.
Episode 275 - September 25, 2017
David Levy and Paul Vattiato from the Avise Group join Scott to talk about trauma, including sexual abuse, PTSD and more. They discuss their program for dealing with that trauma along with their solutions for when that trauma affects the entire family.
Episode 274 - September 18, 2017
Neurologist Dr. David Silvers of Gardens Neurology discusses movement disorders, early Alzheimer's Disease detection and diagnosis and much much more. A very interesting guest with lots of great information.
Episode 273 - July 31, 2017
Bonnie Conrad, Project Director for The Aging Disability and Resource Center discusses the epidemic that is Elder Fraud, Abuse and Exploitation. An incredibly important and informative show about what you can do if you are a victim or suspect someone you know may be.

Episode 272 - July 24, 2017
Dan Lund, President and CEO of The Freedom Boat Club, talks about boating and how it fills the needs of many who many not be interested in golf or tennis. Boating safety, owning a boat, joining a club and so much more. A very different show, but a lot of fun.
Episode 271 - July 17, 2017
An eye-opening show as Dr. Steve Spector, noted Ophthalmologist, discusses common problems with our eyes as we age. Cataracts, macular degeneration, glaucoma, dry eyes and more.
Episode 270 - July 10, 2017
Attorney Steven Dunn, a Long Term Care Insurance Expert, discusses the state of the LTC industry and specifics about policies. Getting the most from your policy can be a challenge sometimes and Steven can help you navigate these treacherous waters.
Episode 269 - June 26, 2017
JD Dinnocenzo, a reverse mortgage specialist, discusses common myths and misconceptions surrounding reverse mortgages. Learn if the product is right for you and how you might take advantage of the benefits. JD also educates us on other options, should a reverse mortgage not be the best choice.
Episode 268 - June 19, 2017
Dr. Jenni Frumer and Derek Hurwitch of Alpert Jewish Family & Children's Services talk about their organization's services available to so many people in need. From victims of domestic abuse, children needing mentoring and Holocaust survivors to those who could benefit from just a little friendly companionship. You will be surprised by all they can offer you and/or your loved ones.
Episode 267 - June 12, 2017
Lauren Young, LCSW of Palm Beach County Fire Rescue explains a first of its kind program in the nation designed to help the community in ways one would not expect Fire Rescue to be involved. The Mobile Integrated Health Team is doing incredible work and Lauren helps us understand their efforts.
Episode 266 - June 5, 2017
Scott speaks with Dan Sherman, direct from Israel about President Trump's recent trip to the region. The political landscape in the Middle East is changing daily and we get Dan's take on the average Israeli perception of the United States' role in the fast changing dynamic that is daily life in Israel. A different and most interesting show.
Scott speaks with Dr. Lawrence Lottenberg, a trauma surgeon at St. Mary's Level 1 Trauma Center, about how to prevent trauma and what to do if you are confronted with an emergency situation. This is a most educational show for Trauma Awareness Month.
Episode 264 - May 15, 2017
Listen in as Scott does a free wheeling show on the state of our looming healthcare crisis and other topics. When you take politics out of healthcare and focus on the practical implications, it isn't pretty and Scott tells it like it is.
Episode 263 - May 8, 2017
May is Stroke Awareness Month. Join noted Interventional Neurologist Dr. Ali Malek as he discusses with Scott prevention, treatment and warning signs. This show could save your life of the life of a loved one.
Episode 262 - May 1, 2017
Bonnie Conrad, Project Director for The Aging Disability and Resource Center, discussed the epidemic that is Elder Fraud, Abuse and Exploitation. An incredibly important and informative show about what you can do if you are a victim or suspect someone you know may be.
Episode 261 - April 24, 2017
Board Certified Elder Attorney Joseph Karp discusses important information about the use of durable powers of attorney that may be different than your understanding, as well as why you need to revisit your beneficiary designations. Very important and interesting show.
Episode 260 - April 17, 2017
Scott speaks with Michael Sicilano, Executive Director of Harbor Chase's newest community about to open in Palm Beach Gardens, about senior living options including independent and assisted living as well as memory care and also touches on the importance of nutrition as we age.
Episode 259 - April 3, 2017
Elissa Erman, Registered Dietitian and Certified Wellness Coach, talks about how mindset and focus can lead you to your happiest and healthiest life.
Episode 258 - March 27, 2017
Dr. Akiva Marcus, Gastroenterologist and Hepatologist at JFK Medical Center discusses colon cancer awareness month, colonoscopy and hepatitis C along with proper gut health. An incredibly informative and entertaining show.
Episode 257 - March 20, 2017
Susan Sullam, whose father was an instrumental player in the events depicted in the movie "The Monuments Men", talks about her father's role and so much more. A truly fascinating story.
Episode 256 - March 13, 2017
Dr. Bradley Lamm, Director of the Foot and Ankle Deformity Center at the Paley Institute discusses the unique problems one can have with their lower extremities and the even more unique solutions available today.
Episode 255 - March 6, 2017
Alzheimer's Community Care's Education Conference is one of the most important events in South Florida each year. Scott speaks with this year's keynote speaker Dr. James Glavin along with Kelly Elbin and Karen Gilbert from ACC to discuss progress with this disease and the conference in general.
Episode 254 - February 27, 2017
Scott speaks with three wonderful guests from the YMCA of South Palm Beach County. They do so much more than most of us realize and their passion and commitment shines through as they discuss their programs, membership and volunteer opportunities.
Episode 253 - February 13, 2017
Dr. Arash Rahi, noted urogynecologist, discusses female pelvic issues that affect over 50 percent of women by the time they reach 50 years old. Great information on a very important subject about which many women are afraid to openly talk and for whom help is readily available.
Episode 252 - February 6, 2017
Dr. Howard Goodman, gynecologic oncologist with Florida Cancer Specialists, discusses the progress they are making with ovarian cancer and the upcoming 2017 Ovarian Cancer Survivors Course scheduled for February 25 at the Hilton West Palm Beach Hotel on Okeechobee Boulevard in West Palm Beach
Episode 251 - January 30, 2017
As people make plans for what to do with their money when that time comes, one of the most often misunderstood topics is that of giving. Elder Attorney Joseph Karp talks about the do's and don'ts you need to know and explains the pitfalls and mistakes people make and the devastating impact it can have on their best laid plans if not done properly. A fascinating show full of useful information.
Episode 250 - January 23, 2017
Marty Katz, Executive Director of Discover Village in Palm Beach Gardens and Registered Dietitian and Nutritionist, discusses nutrition and health in our senior population and how senior living communities can impact one's quality of life.
Episode 249 - January 16, 2017
Guest host Allison Negri speaks with Alyse November, LCSW and founder of Different Like Me, about the very real and serious topic of senior bullying. How to identify when it's happening, address it with both the victim and the perpetrator and the resources to help. A very eye opening and informative show.
Episode 248 - January 9, 2017
Guest host Melissa Morante speaks with two very special ladies doing incredible work for sick children and their families in Palm Beach. Cori Borrego, Co-Chair of the White Dove Cocktail Party benefiting The Auxiliary at St. Mary's Medical Center and Palm Beach Children's Hospital, and Sue Reilly, President and Volunteer at The Auxiliary, discuss this wonderful event and how folks can get involved.
Episode 247 - January 2, 2017
Barrie Brett, author of "Moments of Being ... Finding Your One Moment in Time", talks about those special moments that change our lives forever. A most fascinating look at life's very special events that influence us in ways we can only begin to predict. A truly memorable show.
Episode 246 - December 26, 2016
Samantha Blakeney of New Drug Loft and VLS Pharmacy breaks down compounding pharmacy and explains how and why this is a great option for so many patients. Compounding can be a wonderful solution for those who have needs across a plethora of medical conditions and disease states including endocrinology, dermatology, neurology, pediatrics and more.
Episode 245 - December 19, 2016
Dr. Joseph Ricotta, Medical Director for Vascular Surgery at Tenet Hospital in South Florida, discusses the remarkable progress being made in the vascular surgery area. Utilizing one of only 10 Magellan Robots in the world, Dr. Ricotta is changing lives for the better every day right here in South Florida.
Episode 244 - December 12, 2016
Rebecca Hahessy, Program Director for the South Florida Chapter of the Parkinson's Disease Association discusses Parkinson's disease from a lay perspective providing great insight into the disease and practical information you will find helpful.
Episode 243 - December 5, 2016
Guardianship is a complicated topic. Scott speaks with two recognized experts in the guardianship world. Anthony Palmieri, Chief Investigator for the Palm Beach County Clerk and Comptroller and Mitchell Kitroser, managing partner of Kitroser and Associates, a law firm specializing in elder law and estate planning, explain the guardianship process and the value guardianship can add to the quality of life for vulnerable adults.
Episode 242 - November 28, 2016
Understanding the ACA or Obamacare can be challenging. Louisa McQueeney, Navigator Project Manager of Florida CHAIN, helps you understand your options and the open enrollment period in a most informative show.
Episode 241 - November 21, 2016
Dr. Benjamin Bensadon, Geropsychologist at Florida Atlantic University, discusses the aging highway in a fascinating and unique fashion. This will certainly make you think differently about aging.
Episode 240 - November 14, 2016
Most people have not thought about donating their brain to science, but they should. Dr. Gayle Cortes Serlin from the Miami Brain Bank explains the how and why of brain donation on tonight's show. A most fascinating look at this incredible research effort.
Scott speaks with Desiree Mearns, Project Director for the SHINE program, about open enrollment in Medicare and what you need to understand about your options and choices. One of the year's most important subjects for Medicare recipients.
A unique show as Scott talks to Dan Sherman, a former Senior General Staff Officer in the Israel Defense Forces Strategic Planning Division, direct from Israel about life in Israel, Mid-East politics, American politics and more.
Episode 237 - October 17, 2016
Dr. Thomas Klein, noted Radiation Oncologist at Good Samaritan Hospital, discusses the use of Intra-Operative Radiation in the treatment of Brease Cancer, as well as other cancers.
Episode 236 - October 10, 2016
Minority Leader of the Florida House of Representatives Mark Pafford discusses national and state politics, hurricanes, sea level rise, Medicaid expansion, his future and so much more.
Episode 235 - October 3, 2016
Episode 234 - September 26, 2016
There are 50 million family caregivers in the US. Most are not prepared for the reality of that experience. Tonight's guests are professionals and host the caregiver reality radio show to provide advice for those family caregivers in need of sound help. David Levy and Paul Vattiato do a terrific job of outlining the caregiver reality experience. Listen
Replay - August 25, 2014
Episode 135 - June 30, 2014
Dr. Michael Gleiber, Scott's spine surgeon, talks about spine surgery in general and Scott's case specificially. Fun and informative. Listen
First ever guest host Attorney Jim Miller interviews noted oncologist Augustin Schwartz and discusses how to best use the on line resource Eldercare Channel. Listen
Episode 114 - December 16, 2013
Dr. Michael Gleiber, a Castle Connolly's top Doctors in America and a Becker Spine Review top 50 spinal surgeon, is tonight's guest. Spinal surgery is evolving and there are new and exciting ways to treat spinal issues. Tune in for an exciting review of what the latest spinal surgery developments can do for you. Listen
Episode 111 - November 25, 2013
Dr. Alan Novick and Meryl Comiter of Memorial Rehabilitation Institute explain their acute rehab center based in Memorial South Hospital and why knowledge is power when it comes to rehab and your recovery. Listen
Episode 110 - November 18, 2013
Medicare open enrollment is not the same as Obamacare's open enrollment, but many people do not understand the difference. Tune in and find out what the difference is when Samantha Howell, the project manager of the SHINE program, explains open enrollment for Medicare and why this may be the most important year to choose your plan wisely. Listen
Episode 109 - November 11, 2013
Today is Veterans' Day and we are going to honor our veterans with an upcoming exhibition at the Mandel Public Library in February that will last for 2 months and highlights great achievements by our armed forces. Listen
Episode 108 - November 4, 2013
The best kept secret in West Palm Beach is the Mandel Public Library. 84,000 square feet on 4 floors with 97,000 card holders right in our midst. Listen

Episode 107 - October 28th, 2013
The role of the hospitalist is one of the most misunderstood practices in today's medicine. Listen
Episode 106 - October 21, 2013
Parkinson's disease is front and center tonight as we discuss a new program introduced at Jupiter Medical Center for those with Parkinson's called surf and turf. Listen
Episode 105 - October, 14 2013
Can you avoid going to a nursing home? In some cases, the answer is yes. Listen
Episode 104 - October 7, 2013
Attorney Robert Guyer, President of The Lobby School, discusses tricks of the trade and provides tools for getting the most from your local and state governments. Listen
Episode 103 - September 30, 2013

Medicare open enrollment is not the same as Obamacare's open enrollment, but many people do not understand the difference. Tune in and find out what is the difference when Samantha Howard, the project manager of the SHINE program, explains open enrollment for Medicare and why this may be the most important year to choose your plan wisely. Listen
Episode 102 - September 23, 2013
Dr. Augusto Villa, an interventional cardiologist, discusses an exciting new procedure for valve replacement called TAVR. Now those who were previously poor candidates have hope.
Listen
Episode 101 - September 16, 2013
Dave Aronberg, the State Attorney for Palm Beach County, and one of his Chief Deputies, Kathryn Perrin, discuss crime in general in our area and elder crime and abuse in particular. The State Attorney's office is extremely active in prosecuting those that take advantage of our citizens.
Listen
Episode 100 - September 9, 2013

Dr. David Watson of Alzheimer's and Research Treatment Center discusses the latest in clinical trial developments for new drugs being tested for Alzheimer's and dementia. There is hope!Listen
Episode 99 - August 26, 2013

Dr. Michael Gleiber, noted spine surgeon, discusses the latest in minimally invasive spinal surgery. Nationally know for using the latest technology in spine surgery, Dr. Gleiber has had remarkable results with his patients. Listen in and learn why. Listen
Episode 98 - August 19, 2013

Dr. Daniel Goldman, a cardiac electrophysiologist, talks about a new treatment for those suffering from atrial fibrillation or A-Fib. Listen
Episode 97 - July 29, 2013

Dr. Mark Dunbar from Bascom Palmer Eye Institute, the number one rated eye institute in the world for 10 years, discusses Macular Degeneration, Glaucoma, Cataracts and more. Listen
Episode 96 - July 22, 2013

Can you still be sexy after 60? How about sex after 60 and what you should know? STD's, HIV, Erectile Dysfunction and much more on tonight's show with Dianne Matthew, the Director of Clinical Services for Rut Rales JFS. A must list to. Listen
Episode 95 - July 15, 2013

Do your feet hurt? If you or someone you know is struggling with foot problems, you must listen to Drs. Daniel Pero and Karl Michel noted podiatrists who will tell you that Podiatry is more than nail trimming and hammer toe surgery. Listen
Episode 94 - July 8, 2013

Private duty non-medical home health care is an often misunderstood discipline with so many options the average consumer can certainly be confused. Join Scott when he attempts to clear up the most common misconceptions and gives out helpful hints to guide you in selecting the proper caregiver. Listen
Episode 93 - July 1, 2013

Chronic disease management is a national need with 80% of seniors struggling with one chronic disease and 50% with two or more. Learn how you can take control of your chronic diseases by listening to Dr. Kate Lorig of Stanford University and Jenni Frumer and Jenny Madlof of AJFCS explain this exciting new program. Listen
Episode 92 - June 21, 2013

Taking away the keys may be the hardest conversation you ever have with mom or dad after the birds and the bees. Listen as our guests discuss the urgency of the situation, some tips we can use and a great new program from Ruth Rales JFS. Listen
Episode 91 - June 17, 2013

State Representative Mark Pafford joins Scott to recap the recently completed legislative session. Women's health issues, the environment and pending health care legislation and more. Listen
Episode 90 - June 10, 2013

Having elective surgery to remove both breasts to ward off the chance of contracting breast cancer is a difficult and emotional decision. Beth Banes tells her story and why she did just that on tonight's program. Listen
Episode 89 - June 3, 2013

Dr Ali Malek, an Interventional Neurologist from St Mary's hospital, discusses stroke awareness, prevention and treatment in a show that could save your life. Listen
Episode 88 - May 20, 2013

Palm Beach County Clerk and Comptroller Sharon Bock discusses the counties efforts to combat identity theft and the latest developments in the real estate market. Listen
Episode 87 - May 13, 2013

Alzheimer's Community Care Educational Conference is one of the major events in the latest developments in the progress of Alzheimer's Disease. Tonight we recapped the highlights of that conference with many of those who spoke and participated. Listen
Episode 86 - May 6, 2013

Dr. Richard Follwell, Chief Medical Officer of the Bariatric Surgical Center, discusses surgical options available to those struggling with obesity. Learn how surgery can change your life and allow you to enjoy life as it was mean to be. Listen
Episode 85 - April 29, 2013

Dr. Steven Essig and Alyse November, LCSW, founders of Brain Lane Memory Center, an outpatient memory clinic, discuss the latest in comprehensive memory care and cognitive training for those with memory problems. The diagnosis does not have to be the end, there is hope. Also Representative Mark Pafford straight from Tallahassee brings up to speed on the latest news from our state Capitol. Listen
Episode 84 - April 22, 2013

Dr. Paul Brown, author, lecturer, entrepreneur and the founder of 2 one hundred million dollar companies, discusses the aging process and how you can stay young and active up to your 100's. Listen
Episode 83 - April 15, 2013

Jenni Frumer of Alpert Jewish Family and Children's Services, Danielle Hartman of Ruth Rales Jewish Family Services and Susan Luxenberg of Homesmart discuss an exciting new program for seniors in need of home remodification to age in place even if they can't afford the modifications. Also Representative Mark Pafford straight from Tallahassee updates us on what's new in the state Capitol. Listen
Episode 82 - April 8 2013

Continuing education on steroids located right here in our own backyard. Kami Barrett from FAU's lifelong learning society explains why 8,000 local residents take advantage of their programming. Professor Kevin Wagner calls in too. Of course Representative Mark Pafford calls in straight from Tallahassee to keep us up to the minute on our state legislative initiatives. Listen
Episode 81 - April 1, 2013

Securities attorney, Peter Spett, who specializes in recovering your assets lost from bad investments caused by inappropriate advice from your stock broker tells you how to get your money back. Also state representative Lori Berman straight from Tallahassee tells us what is happening as the legislative session moves forward. Listen
Episode 80 - March 18, 2013

Knowing where you come from can save your life. Marc Thompson, a noted genealogist, tells us why discovering your history beyond just your family tree can tell you so much about what lies ahead as well as what lied behind. Simply fascinating show along with State Representative Mark Pafford calling in from Tallahassee to bring us up to speed on the stunning developments last week in the state Capitol. Listen
Episode 79 - March 11, 2013

Florida ranks 50th in mental health expenditures and tonight's guests are Barbara Hernandez, COO, and Andres Torrens, Clinical Supervisor, of the Center For Family Services, a 50 year old non profit specializing in family counseling initiatives. Also state representative Mark Pafford calls in from the state capital. Listen
Episode 78 - March 4, 2013

Rabbi Yosef Grodski, a chaplain at the Veterans Administration, discusses the role of a chaplain, PTSD, counseling and how one goes from Wall Street to being a rabbi. Also state representative Mark Pafford straight from the state Capitol gives us the latest update from Tallahassee. Listen
Episode 77 - February 25, 2013

Noted Neurosurgeon Dr. Lloyd Zucker discusses some exciting new developments in the clinical trials involving Progesterone and Traumatic Brain Injuries. Listen
Episode 76 - February 18, 2013

Cardiologist Dr. Rahul Aggarwal discusses heart disease, diabetes, stents, statins and more plus Representative Mark Pafford talks us through Florida's handling of the upcoming healthcare exchanges. Listen
Episode 75 - February 11, 2013

Americorp volunteers, enhanced companions, and many other services of Alpert Jewish Family and Children's Services as explained by Jenni Frumer, Associate Executive Director, and Elyse Jacobson, Director of Long-Term Care. Also direct from Tallahassee, State Representative Mark Pafford discussing important issues of the day. Listen
Episode 74 - February 4, 2013

Antonella Martino, a Consultant Pharmacist, discusses the effects of the medications we are taking every day ... the good, the bad and the ugly. Also direct from Tallahassee, State Representative Mark Pafford discussing important issues of the day. Listen
Episode 73 - January 28, 2013

Attorney Steven Dunn, a specialist in long term care insurance, helps you understand your benefits and how you can access them. Learn how you can even have your benefits restored if your policy has lapsed. Listen
Episode 72 - January 21, 2013

Dr. Sandra Sanchez, a board certified general surgeon with a speciality in breast cancer issues, joins us to tell us how cancer is not a death sentence and the future is bright. Listen
Episode 71 - January 14, 2013

Mya Breman, a body psychologist specializing in working with mind and body through the use of CraniosacroTherapy, talks about overcoming all sorts of ailments from Chronic Fatigue to Fybromyalgia. A most interesting look at alternative medicine. Listen
Episode 70 - January 7, 2013

Dr. Jonathan Hersch, an orthopedic surgeon and sports medicine specialist, discusses how boomers can stay physically activie and healthy too Listen
Episode 69 - December 17, 2012

Clinical Nutritionist, Lisa Siemens, tells us how to eat healthy and avoid the most common mistakes during the holiday season. Listen
Episode 68 - December 10, 2012

Mary Jones, Executive Director of the Elder Rights Center of the Area Agency on Aging, talks about elder fraud, abuse, and exploitation. From family members to scam artists, elders can be our most vulnerable. Learn how to protect yourself. Listen
Episode 67 - December 3, 2012

Neurosurgeon, Dr. Brett Osborn discusses treatable dementia or NPH, normal pressure hydrocephalus. Nearly 10% of diagnosed dementia may in fact be totally treatable if you suffer from NPH. Listen
Episode 66 - November 26, 2012

Marc Thompson, personal trainer and owner of virtufit.net, talks about staying in shape virtually using Skype technology while needing no real traditional training tools. Listen
Episode 65 - November 19, 2012

Philip Weinstein, a funeral director for over 45 years, discusses everything you ever needed to know about advanced planning and available options for your pre-need planning. Listen
Episode 64 - November 12, 2012

Crystal Fornes, NP, RN and head careplanner for a new venture called Careplanners discuss how to navigate the health care industry. From medical billing to selecting the right doctor she has tips that everyone can use. Listen
Episode 63 - November 5, 2012

Colleen Schuhmann of UBS and Suzanne Falcone of Perfect Order help us organize our lives both financially and materialistically. Listen
Episode 62 - October 29, 2012

Dr. Steven Charlap of MD Prevent discusses the benefits of preventative medicine before you need curative interventions. Fascinating topic so listen in! Listen
Episode 61 - October 22, 2012

John Dalton from Activa Home Health discusses open enrollment for Medicare, Managed Care, and all things Medicare in home services. Listen
Episode 60 - October 16, 2012

Agencies or Registries? Do you know the difference and do you care? You should so listen to Scott and Marc Spector the president of the registry association responsible for their lobbying efforts debate the merits of each. Also Patrick Murphy the Democratic Candidate for Congress running against Allen West is here to answer why he is the best choice for your vote in district 18. Listen
Episode 59 - October 8, 2012

Real estate for seniors is different and tonight's show is all about those differences. Ida Mulvey, Milly Taylor and Marion Suro of Keyes Real Estate will tell us all about the special needs of seniors in the real estate market. Listen
Episode 58 - October 1, 2012

Beth Banes of the Long Term Care Connection talks about long term care insurance and answers the most commonly asked questions. Listen
Episode 57 - September 24, 2012

Dr. Katherine Brazzale of Hospice of Palm Beach County dispels the myths of hospice care. Listen
Episode 56 - September 17, 2012

Drs. David Amrose and Nicole Basile, kidney specialists discuss chronic kidney disease and proper kidney health. Listen
Episode 55 - September 10, 2012

The walk to end Alzheimer's and the statistics supporting the need to get involved are discussed with Steve Delach, Cindy Schoolmaster, and Amy Adaniel. Listen
Episode 54 - August 27, 2012

Dr. David Watson of the Alzheimer's Research and Treatment Center discusses the latest in research and treatment developments including all of the recent events and news stories. Listen
Episode 53 - August 20, 2012

Milka Santos of the Parkinson's Education Network and the Parkinson's Foundation discusses Parkinson's disease and its symptoms, treatments and progress. Listen
Episode 52 - August 14, 2012

JD Dinnocenzo, a reverse mortgage specialist with WCS Lending, discusses the good, the bad and the ugly of reverse mortgages. Listen
Episode 51 - August 6, 2012

Dr. Chere Lucas Anthony of the Rendon Center for Dermatology discusses skin cancers, MOHs surgery, sunscreens and more. Listen
Episode 50 - July 30, 2012

Representative Mark Pafford discusses the Affordable Care Act and its impact on our state. Listen
Episode 49 - July 23, 2012

Gayle Mya Breman a body psychologist specializing in Cranio Sachral therapy and non invasive hands off therapy explains this exciting treatment modality. Listen
Episode 48 - July 9, 2012

Dr. Leonard Hock medical director of Hospice By The Sea discusses the miracles of life and planning for the rest of our lives. Listen
Episode 47 - July 2nd, 2012
Marcia and Bruce Berns publishers of Nostalgic America Magazine discuss the wonderful stories deafened in their magazine. Listen
Episode 46 - June 25, 2012

Dr. David Amrose and Dr. Nicole Basile specialist in all things kidneys discuss chronic kidney disease and proper kidney health. From stones to diabetes tune in for facts you need to know. Listen
Episode 45 - June 18, 2012

Emmy Award winning documentary film maker Keith Famie discusses his new series for PBS called "The Embrace Of Aging" a 3 part series debuting in the fall. Listen
Episode 44 - June 11, 2012

Dr. Stuart Bagatell of JFK Medical Center talks about POLST .......... physicians orders for life sustaining treatment a new paradigm in care. Listen
Episode 43 - June 4, 2012

Francine Russo, the author of 'They're YOUR Parents Too' explains how siblings can survive their parents aging without driving each other crazy. Listen
Episode 42 - May 21, 2012

Dr. Diana Denholm author of The Caregiving Wife's Handbook explains the triumphs and tribulations of being a caregiving wife. Listen
Episode 41 - May 14, 2012

Dr. Joel Policzer the National Medical Director and Dr. Katherine Brazzale of Vitas Palliative Care explain this new medical specialty and their new facility specializing in palliative care. Listen
Episode 40 - May 7, 2012

Carole Seigworth and Judith Kuchar from the Devonshire at PGA talk about CCRC's and Life Care Communities. Listen
Episode 39 - April 30, 2012

Michelle Hollister and Scott Solkoff from Solkoff Legal discuss everything you need to know about the practice of elder law. Listen
Episode 38 - April 23, 2012

Dr. Richard Levine discusses prevention and early detection as a means to live a long and healthy life. Listen
Episode 37 - April 16, 2012

Karen Harvey of Senior Transition Solutions talks about senior move management. Listen
Episode 36 - April 9, 2012

Dr. Steven Charlap of MD Prevent discusses how prevention can be better than cures and how you can take control of your own health. Listen
Episode 35 - April 2, 2012

Everything you wanted to know about Medicare is covered by Shine Volunteer Shelley Siskin, a recognized expert in what Medicare covers and your many options. Listen
Episode 34 - March 26, 2012

Dr. Elaine Rotenberg the clinical director of Alpert Jewish Family and Children's Service discusses mental illness and the senior population. Listen
Episode 33 - March 19, 2012

Paul Vattiato of Intracoastal Family office explains the functions of a family office. Listen
Episode 32 - March 12, 2012

Representative Mark Pafford from District 88 gives us a legislative update from the recently concluded session in Tallahassee. Listen
Episode 31 - March 5, 2012

Everything you want to know about Medicaid with guests Attorney Mitchell Kitrosser and Social Worker Elizabeth Katz of Turning Point. Listen
Episode 30 - February 27, 2012

Jaime Estremera-Fitzgerald, Executive Director of The Area Agency on Aging, discusses the services offered by her organization. Listen
Episode 29 - February 20, 2012

Attorney Steven Dunn discusses getting the most out of your long term care insurance policy. Listen
Episode 28 - February 13, 2012

Dr. Sandra Mondro and Mary Jean Houlahan discuss the Good Samaritan Hospital Breast Cancer Center and the Navigator program. Listen
Episode 27 - February 6, 2012

Mary Barnes, President and CEO of Alzheimer's Community Care. Listen
Episode 26 - January 30, 2012

Guests from the Florida State Guardian Association, Sharon Bock, Clerk and Comptroller, Anthony Palmieri, Chief Investigator, Lee Eakin, State President and Karen Green, Local Chapter President discuss facts about guardianship. Listen
Episode 25 - January 23, 2012

Ellen May of the Alzheimer's Association provides an in-depth look at the disease and cure efforts along with Steve Delach and Cindy Schoolmaster, co-chairs of the 2012 Annual Walk to End Alzheimer's. Listen
Episode 24 - January 16, 2012

Susan Luxenberg, a certified aging in place specialist, discusses accessibility modifications that are functional and attractive. Listen
Episode 23 - January 9, 2012

Guest JD Dinnocenzo discusses Reserve Mortgages. Listen
Episode 22 - January 2, 2012

Host Scott Greenberg speaking about What ComForcare Does. Listen
You can also stream past shows for free on iTunes, or see ALL EPISODES at Podomatic.
Play latest Shows Here
Contact us at
561-630-1620