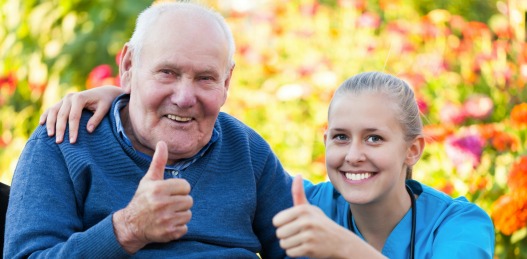 "Compassionate, caring and with an eye for detail, the work of Imelda Padama's staff in Vallejo contributed significantly to the quality of life for my Father in his final years, days and hours while in a retirement facility in Vallejo, Ca. There is no doubt that the ladies' untiring efforts and positive approach to their duties made the transition from medication reminders to 24 hour assistance and supervision as smooth as possible for my Dad, and provided peace of mind for me, his daughter. I know with absolute certainty that my father had the best care available. Imelda's cheerful ladies performed all their responsibilities with conficence, skill and a smile. They kept records of blod pressure and medications, assisted with ADLs, and maintained good relations with facility staff and other residents. In addition, they took care of seemingly small yet important things such as helping my Dad to feed the birds, sweep the porch, organize the apartment, decorate for holidays and dish up ice cream for my children. As I faced the end of my Father's life, they were there, helping me and him until he breathed his last breath. Imelda's expertise and her ability to acquire and maintain such an outstanding staff is the key to the success of her business. She and her staff are to be commended for their commitment and their efforts." -- Sally Ann
"ComForCare in Vallejo provided the most excellent care to my father, Dale P., over a number of years as he neared the end of his life. ComForCare is ably led by the incredibly talented Imelda Padama, whose sensitivity, expertise and business acumen make ComForCare such a high-quality and sought-after operation. Dad's primary caregiver was Jenny, and she treated Dad with kindness, friendship and respect. She came to know his quirks and habits, and saw to his little comforts as well as giving excellent personal care. Over the years, Imelda and her staff saw to Dad's every need, through several hospitalizations, convalescent care and one stint where ComForCare had to provide 24-hour care after Dad had surgery. No task was too great or small. They helped us figure out appropriate levels of care as his needs evolved, and worked with us with compassion as both his health and disposable income declined. They always kept me apprised of issues to discuss with his doctors and upcoming appointments. If no one else was available, Imelda would drop whatever she was doing in the office to take Dad to an appointment or pick up a medication. I also want to note that ComForCare consistently provided regular, understandable and justified bills - this might not seem important, but I assure you it was a huge help in keeping his finances and taxes straight. When we all realized the inevitable time was approaching when Dad could no longer live on his own, even with assistance, Imelda lent her expertise and knowledge of our area and the best options to help me find a board and care that was not only excellent but within his means. Even after leaving ComForCare services, Imelda and Jenny kept up with us, visiting Dad occasionally and answering questions that came up for me.
My Dad was in his mid-seventies and literally dying when we hired ComForCare. He had lost 50 pounds and most of his energy and zest for life. Under the loving and expert care of ComForCare, he regained a considerable portion of his health and enjoyed another 10 years of life, during most of which he was reasonably active and, more importantly, engaged in the world around him. There is no doubt in my mind that ComForCare saved my Dad's life. This in itself is a tremendous recommendation, but even that is surpassed by the fact that they helped so immeasurably to maintain and expand his quality of life. That was a huge blessing, and our family is forever grateful to Imelda, Jenny and ComForCare for their services and their love." -- Christina A.

"Our parents lived in a retirement community in Vallejo, California, for five years until we recently moved them to Reno, Nevada, to be closer to some of their ten children. While in Vallejo, ComForCare provided excellent in home care for them. Jenny, their primary caregiver was exceptional, as were Michelle and Cora, who also provided care. Jenny actually became an honorary member of our family. Unfortunately, our mother passed away in February but not until after Jenny drove all the way to Reno to say goodbye to her. We feel that Mom was actually waiting to see Jenny before she died. That's what we call "above and beyond" and "going that extra mile".

The Hansen Family


Contact us at
707-557-6900