Below is a letter written to us from the daughter of one of client's.
MY MOTHER'S HAT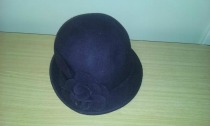 A Christmas Story
My mother, Patricia, resides at Rosegate Village, a nursing home on the south side of Indianapolis. She has dementia, so visits with her are bittersweet. When I go to see her, and find her roaming the halls in her wheelchair or sitting in someone else's room, Mom's eyes light up and she greets me with a smile and a "Hi" or "How are you?". Then for the remainder of the visit, her language is garbled gibberish, punctuated by occasional moments of clarity such as "Are those new shoes?" or "Can we get out of here"? Our visits usually end with a surprisingly lucid farewell from her such as "Thank you for coming" or "So good to see you". Then, Mom recedes into her singular world.
It is a helpless feeling for me – but what about Mom? Does she have a sense of what she's lost - her husband, her home, her possessions, her memories, her reason, her self-respect? There is no way to know how much she comprehends about her situation, but one day a member of another family was visiting someone who lives on Mom's hall. The visitor bore a striking resemblance to my Aunt Florence, Mom's sister-in-law. As Mom was wheeling down the hall this stranger stopped to greet Mom, and Mom burst into tears with a sense of recognition and loss that was astonishing.
I live in the Ellettsville area, and can't see Mom as often as I'd like. I change out her clothes seasonally and I bring her chocolates, but what more can be done for her now that she can't take part in activities, read or even converse? Halloween turned things around. The Rosegate Village staff passed out crazy hats for the residents to wear and someone put a witch's hat on Mom. She loved it. My sister, who was visiting that day, took a picture and texted it to us siblings. My brother suggested we get Mom a hat to wear every day.
Those who were adults in the 50's and prior to that knew the importance of hats. Mom had a collection of them she wore to church and on any important occasion. Her favorite was a canary yellow number with layers of chiffon overlain with matching tulle. Mom always paid careful attention to her appearance. The wearing of a hat along with the requisite pair of white gloves was the icing on the cake of proper attire.
Eventually the hat passed into fashion history and Mom took to wearing a wig when her daily hair care became unmanageable. The last few years she hasn't been able to handle a wig, and Rosegate's hair stylist keeps her hair short and carefree. But Mom had nothing covering her head, as she was used to, making her feel like she was ready to greet the day.
So we got Mom a hat - an attractive felt cap, with felt flowers adorning the hatband. Dusky purple, it is a color which, at Mom's age of 88, is well within the dictates of fashion. Mom loves her new hat and sports it every day – no matter the outfit she is wearing. It gives her a measure of self-respect as a well-turned-out matron. People stop Mom in the hallways to comment on how attractive she looks in her purple hat, and Mom beams from the attention. We like to think the hat brings our mother comfort, warmth, and the feeling she had when she stepped out in her yellow chiffon hat so many years ago.
Two weeks before Christmas I visited Mom and found her asleep. Beside her in bed lay the purple felt hat, her fingers clasped firmly around its brim as visions of sugarplums danced in her head.
Contact us at
317-664-5136