Joyful Memories Program in San Antonio
With dementia rates around the world on the rise, research efforts are yielding breakthroughs that provide new insights into dementia care every day. ComForCare is a leader in home care services for people with dementia. Whether we're providing care for clients Alzheimer's Disease, Lewy Body Disease, Vascular Dementia, Frontotemporal Dementia, Alcoholic Dementia, Mild Cognitive Impairment, or a more rarely diagnosed dementia, our team stay's up-to-date on dementia care best practices with our DementiaWise Home Care Services.
Joyful Memories was created when ComForCare's National Director of Music and Special Program, Steve Toll, was inspired to research and develop a music therapy tool for seniors who have been diagnosed with dementia.
The Joyful Memories program helps to strengthen cognitive functions and embraces the therapeutic benefits of music. We focus our attentions on age-related conditions and diseases which affect cognitive and physical abilities, with special attention given to our clients with Alzheimer's and other forms of dementia. This special program uses tools to help clients remain calm, engage socially, and functioning at their best. There are two parts of the program:
● Memories Group – seniors and their loved ones can gather together to sing and dance.
● One-on-One – our team builds a customized playlist based on life experiences and memories. This can help strengthen the bond between the senior and their caregiver.
In the video below, Steve and other members of the ComForCare team talk about how music therapy can help individuals with Alzheimer's and other forms of dementia.

Joyful Memories Events
ComForCare Home Care - San Antonio has partnered with a local rehabilitation center to bring the Joyful Memories Group to their patients. In December, seniors were able to enjoy a Christmas and Elvis Presley show.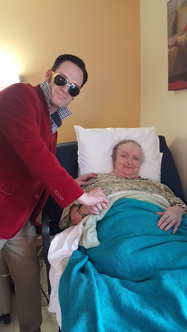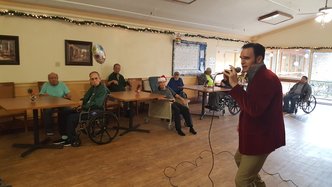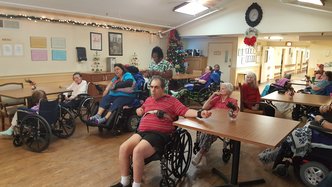 ComForCare Home Care is a premier provider of home care services for seniors in San Antonio, TX and surrounding areas. For more information about the Joyful Memories program or ComForCare home care services, give us a call at (210) 637-9055.
Contact us at
210-899-0959