ComForCare Home Care - Greensboro and Triad Area, NC
Memberships and Awards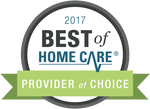 Employment Opportunities in Greensboro, North Carolina
When it comes to finding the right caregivers for ComForCare Home Care Greensboro, North Carolina, we verify skill and focus on finding individuals who are compassionate, kind and understanding to ensure we hire only the most reliable and trusted caregivers.
Home Care Services
ComForCare is pleased to offer Greensboro-area area residents 24/7 live-in care services that can help elderly individuals and those with disabilities to get the most out of Greensboro living. ComForCare offers assistance with home care tasks such as:
Grooming and hygiene
Bathing and toileting
Meal preparation
Transportation and errand assistance
Medication reminders
Safety supervision
Light housekeeping
Companionship
Family respite
Disability Support in Greensboro, North Carolina
ComForCare Home Care Greensboro provides home care services to adults. Individuals over the age of 18 with physical disabilities or other challenges often need hands-on care around the clock. Our caregivers at ComForCare are available 24/7 ― whenever your loved one needs assistance.
Areas Served
Greensboro
High Point
Jamestown
Summerfield
Stokesdale
Oak Ridge
Colfax
Belews Creek
Kernersville
Union Cross
Talleys Crossing
Burlington
Hospital-to-Home Transition of Care
With hospital-to-home transition care, our caregivers can assist with transportation, as well as getting an individual settled in with meal preparation, light housekeeping and more. We understand it's important to provide individuals with supervision and assistance around the clock after a hospital discharge. That's why our caregivers are happy to help get your loved ones feeling like themselves again once they are home.
Meet the Owner
"I really love what I do." -Howard Driggers, owner of ComForCare Greensboro
We're All Family
I want to say one thing: I love what I do. I really, truly do. It has been quite a journey to get here, but I know it in my heart that I made the right choice when I decided to work with ComForCare.